WELLBEING ASSESSMENT
How do you know the wellbeing of your people?

 
Proactive wellbeing strategies are known to deliver an average ROI of 5:11  for businesses through retaining top talent, increasing productivity, lifting individual performance, and supporting people to live happy, healthy, and fulfilling lives.   
Great strategies are based both on data and people insights. Getting comprehensive and reliable data is key to ensuring that your wellbeing strategy improves outcomes for your people and your business.   
A few years ago, our clients started asking us how they could find out the state of their people's wellbeing. With no dedicated or comprehensive wellbeing survey available, we developed the Umbrella Wellbeing Assessment. We combined our years of psychological research and expertise into an easy-to-use and accessible tool designed to support the wellbeing of organisations and your people.  
We have now run the Umbrella Wellbeing Assessment across 30 organisations – big and small – with thousands of individuals to measure their wellbeing, and the work and non-work factors influencing it. In this time of dispersed teams and the global impact of COVID-19, businesses are using this survey as a way to better understand how their people are doing, what support is working well across their organisation and what areas of support are still needed. 
The Umbrella Wellbeing Assessment provides individual wellbeing reports and resources for each employee who completes it.  Organisations have access to an interactive dashboard and comprehensive wellbeing report with insights into the unique wellbeing opportunities for the organisation. 
The Umbrella Wellbeing Assessment combines clinical psychology insight, best practice measurement tools, and comparative data to ensure that your wellbeing strategy is informed by comprehensive data on the needs of your most important asset: your people.
To discuss using the Wellbeing Assessment in your organisation, contact us.
A growing body of research shows that employee wellbeing is influenced by work and non-work stressors and a range of protective factors.
The design of the Umbrella Wellbeing Assessment is based on this model and includes measures of its key components: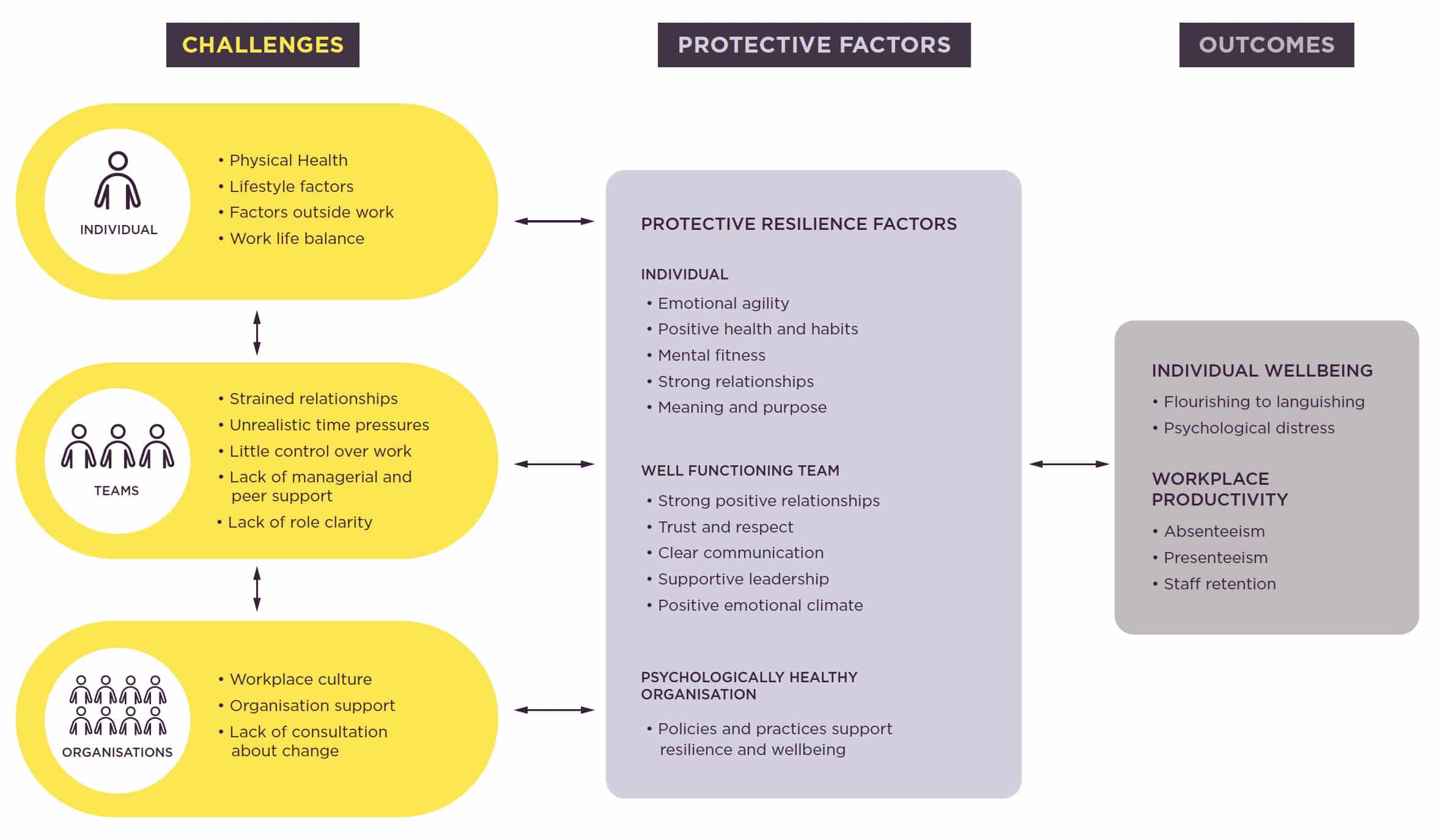 Our Wellbeing Assessment works like this. 
We start with asking, "Why? What is driving your investment in workplace wellbeing? What do you want to achieve?"

 

Using our unique Wellbeing Assessment methodology, we perform an accurate and comprehensive assessment of employee wellbeing, as well as the individual and organisational factors that affect workplace wellbeing.

 

Our analysis and expertise help you take informed action on workplace factors that have the greatest impact on workplace wellbeing. You will also know the top life challenges facing your people and ways to support them.

 

We review progress and outcomes before circling around the process again. A re-assessment accurately identifies improvements, stuck points and areas for further attention. It keeps your workplace wellbeing programme current and accountable.

 
1 Deloitte (2020). "Mental Health and Employers: Refreshing the Case for Investment."
Our Wellbeing Assessment complements our other services so we can offer you the data, understanding, solutions and expertise that fit your business.